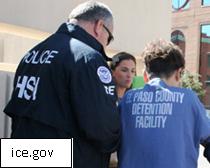 On October 19, 2012, the owner of a massage parlor in El Paso, Texas, was arrested by Homeland Security Investigations (HSI) agents under Immigration and Customs Enforcement (ICE). The defendant, Soon Kim, was charged with "coercion and enticement to transport illegal sexual activity."

Soon Kim is the owner of the Kyoto Hot Stone Spa on the 600 block of North Virginia Street in El Paso.

After the search warrant was issued, HSI agents found a large number of unwrapped condoms at different places inside—evidence which ICE states is "consistent with prostitution."

During the same search warrant, a woman outside the massage parlor told the special agents that she was recruited to work at the business. The woman stated she knew she was supposed to perform sexual acts for customers, and she was required to wear a short, tight dress. She told the special agents she flew from California to work for the massage parlor.

Kim admitted that she charged customers at the front desk for massages, chair massages, and table showers. She said that her employees were allowed to collect monetary tips from the customers, and the tips were often payments for sexual acts. She also admitted that the employees were from Korea, and they weren't United States citizens.

Kim now faces a maximum of 20 years in prison, and she is scheduled for a preliminary hearing on October 23, 2012.

The case is still being prosecuted by special agents with the HSI El Paso Border Enforcement Security task Force (BEST). The BEST unit in El Paso is one of 32 BEST units the United States and Mexico, and they investigate a large amount of crimes associated with immigration and customs. BEST is extremely effective in targeting and stopping criminal organizations on both sides of the border.

Source: U.S. Immigration and Customs Enforcement

Comments
comments